People living in conflict see their family members killed and their communities and cultures ransacked for profit. The spoils are then funneled into buying yet more weapons and funding armed groups. We work to expose the corruption that fuels grave human rights violations, ensure survivors get justice, and hold perpetrators of mass atrocities to account.
Did you know
At our inaugural Albie Awards, we presented iAct with our Justice for Survivors award for its work alongside survivors of genocide and other mass atrocities. iACT worked with the Clooney Foundation for Justice to interview survivors from Darfur, Sudan, who have been trapped in refugee camps in Chad for over a decade. Using this evidence, Amal Clooney represented over 100 survivors in a trial of a militia leader at the International Criminal Court.
Pursuing the Perpetrators

Genocide, crimes against humanity, and war crimes are being committed across the globe.
In too many places, perpetrators and their enablers have no fear of ever facing justice in court. Even when perpetrators of mass atrocities face justice, their accomplices and enablers remain largely immune from prosecution. The Docket gathers evidence to trigger prosecutions and civil actions before international, regional, and national courts against those responsible for international crimes and represents victims in their pursuit of justice.
Survivors of Sexual Violence
Across the globe, survivors of sexual and gender-based violence (SGBV) face immense barriers when navigating the criminal justice system. To identify the challenges that survivors are facing in South Africa, CFJ's Waging Justice for Women initiative partnered with University of Nottingham's Rights Lab to interview over 150 survivors of gender-based violence in the country.
Did you know
South Africa has some of the most progressive laws on the continent, but it continues to have some of the highest prevalence and lowest conviction rates of GBV worldwide. The majority of survivors never see justice or even have their case make it to court.
To identify and understand these bottlenecks better, CFJ's Waging Justice for Women initiative partnered with University of Nottingham's Rights Lab to interview over 150 survivors of gender-based violence in South Africa. We found that nearly two-thirds of survivors who file a police report are not making it through all stages of the criminal justice process. The biggest drop off happens before the investigation stage, where a third of survivors decide not to proceed with an investigation after reporting an incident. These barriers lead many victims to feel discouraged and traumatised by the entire experience of seeking justice.
Representing Survivors
CFJ Co-Founder Amal Clooney has represented Yazidi women in the only three cases in the world in which ISIS fighters have been convicted of genocide.
In one case, Amal represented a Yazidi woman who provided the key evidence that sealed the genocide conviction against the defendant, an ISIS member who had enslaved and abused the woman and killed her 5-year-old daughter. This led to the first conviction of an ISIS fighter for genocide in any courtroom in the world.
She has also represented victims in five other trials that have led to convictions of ISIS fighters for war crimes and for crimes against humanity. And she represents Yazidi Nobel Laureate Nadia Murad and other Yazidi survivors in their quest for justice.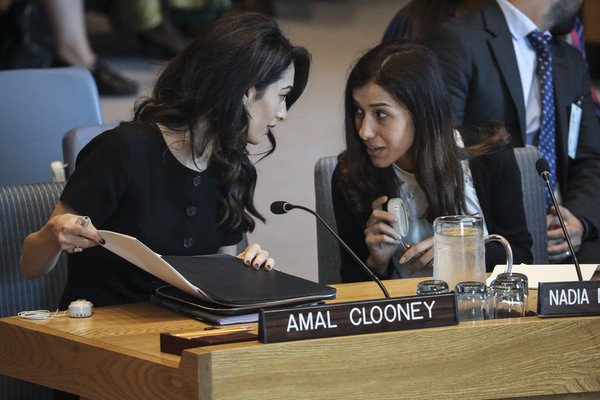 This verdict is a win for survivors of genocide, survivors of sexual violence, and the entire Yazidi community…. When survivors seek justice, they look for someone to give them hope that justice is possible. Amal gave me and many survivors hope that we will achieve justice. I am grateful to Amal for her tireless work to bring ISIS members to court.