Justice for Journalists
The world is becoming increasingly authoritarian, and authoritarian leaders increasingly use courts to suppress truthful reporting. With the highest number of journalists behind bars since records began, and the murder of journalists going unpunished in more than 80% of cases, it's ever more important that we know what's taking place in courts. But that data is not generally available. As the only comprehensive, global program monitoring criminal trials, the Clooney Foundation for Justice's TrialWatch Initiative – now active in over 40 countries – is filling this gap.
The formidable Filipino journalist and Nobel Peace Prize winner Maria Ressa was awarded the Justice For Journalists Award by Meryl Streep at our inaugural Albie Awards in 2022 for her reporting exposing government corruption and human rights violations in the Philippines. Maria is a client of Amal Clooney and currently faces a lifetime behind bars.
Since its launch in April 2019, TrialWatch has focused on monitoring trials against journalists. We have monitored over 40 cases that threaten press freedom, including cases in which journalists have been charged with criminal defamation and insult, 'fake news,' national security offenses, and sedition. We have covered the crackdowns on journalists in Belarus,  India, Morocco, and Hong Kong, as well as trials implicating freedom of expression of protesters, academics, opposition leaders and activists in countries such as Uganda and Thailand.
The UK government appointed Amal Clooney as their Envoy on Media Freedom and in 2020 she was the recipient of Committee to Protect Journalist's 'Gwen Ifill Award', recognizing 'extraordinary and sustained achievement in the cause of press freedom'. She has successfully defended imprisoned journalists all over the world and currently represents journalist Maria Ressa, who was awarded the Nobel Peace Prize in 2021 but faces a lifetime behind bars for her work in the Philippines. Amal's vision for TrialWatch includes professionalizing and scaling the practice of trial monitoring and making sure that every person who is unjustly imprisoned has access to a lawyer who can advocate for their freedom.
Pursuing Threats to Press Freedom
A growing number of governments treat journalists as ideological enemies of the state, and authoritarian leaders are increasingly using courts to suppress truthful reporting. At CFJ our initiatives not only take on specific cases of journalists being prosecuted, but tackle the root cause of censorship and diminishing press freedom – authoritarian governments and armed groups emboldened to threaten those seeking to expose the truth.
In Venezuela, Reporters Without Borders reports that many journalists have fled the country since 2018 because of physical danger. Both print and online media sources have suffered from harassment, including repeated cyberattacks. CFJ's work gathering evidence of  international crimes in the country will now lend investigative support to an ICC and help get justice for those who have suffered.
A 2021 contribution from the Google News Initiative (GNI) for TrialWatch, will focus on championing press freedom and advocating for journalists who have been unjustly imprisoned.  The contribution will support its efforts in advocating for journalists around the world who have been unjustly imprisoned or targeted with laws that suppress free speech.
The Impact of Our Freedom of Speech Work
Case Study: Stella Nyanzi
Stella Nyanzi is a Ugandan women's rights activist and one of the most vocal critics of the country's president, Yoweri Museveni. She uses "radical rudeness" to fight for political and economic change. Ms. Nyanzi was previously suspended from her teaching post at Makerere University and detained for calling the president a name in a Facebook post. In 2018, she posted a poem on Facebook that suggested Uganda would have been better off if President Museveni had not been born.
On this basis, she was tried and convicted of "cyber harassment." The TrialWatch Fairness Report on her trial detailed several serious violations, including violations of her right to call and examine witnesses, her right to adequate time and facilities for the preparation of a defense, and her right to freedom of expression.
Appealing her conviction, defense counsel submitted the Fairness Report to the court of appeals, which agreed that she had been denied adequate time to prepare her defense, vacated her conviction, and ordered her released.
Result: Conviction Vacated (previously convicted and sentenced to 18 months)
COVID-19
In the wake of the outbreak of COVID-19, we pivoted to address the ways in which the authorities are using the pandemic as an excuse to crack down on speech or silence dissent under the guise of fighting 'disinformation' or the cover of emergency laws. For instance, we are monitoring prosecutions of journalists reporting on COVID in India, Russia, and Kazakhstan. and have reported on how the context of COVID-19 has been invoked to allege that speech is harmful. We have also had a unique vantage on the conduct of virtual proceedings during the pandemic.
Case Study: Alnur Ilyashev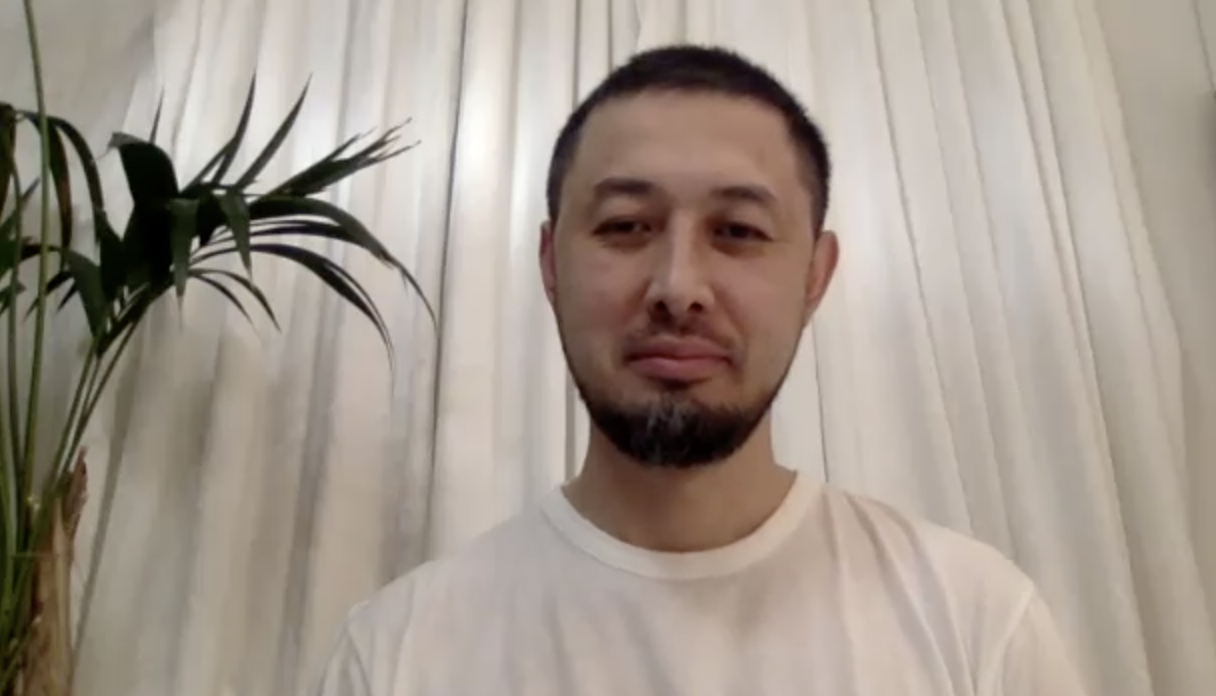 Alnur Ilyashev is a long-time Kazakh activist. He previously requested permission to hold peaceful protests 35 times—only to be rejected each time. Earlier this year, he was charged with "dissemination of knowingly false information . . . in the conditions of emergency" for posts on Facebook critical of the ruling Nur Otan Party, including their response to COVID-19. His trial in June was held entirely virtually due to the pandemic. During the trial, Mr. Ilyashev and his lawyers were frequently disconnected from the audio and video feeds, prompting Mr. Ilyashev to say, "I am the main person involved, and I cannot hear anything."
Moreover, the cross-examination of the prosecution's key expert witness was cut short ostensibly because her phone ran out of battery—and she was then never recalled by the court. In response, and based on a preliminary report on the monitoring, we filed an amicus brief urging the court of appeals to vacate Mr. Ilyashev's conviction.While defense counsel had doubted the court of appeals would take any action, Mr. Ilyashev's case was reopened on appeal. Nevertheless, the appeal court ultimately upheld his conviction. We are currently consulting with Mr. Ilyashev on next steps.
Monitoring
Since the outbreak of COVID-19 two of our key areas of focus have been trials involving journalists and those involving women and girls. With respect to the former, we have documented the wide variety of charges to which journalists are subject.
We also redoubled our efforts to identify and deploy local, rather than international, monitors. This has allowed us to not only overcome some of the logistical hurdles that traditionally face trial monitoring—now exacerbated by uncertainties related to the pandemic—but has also fostered local ownership. Throughout, we have remained attentive to both health and security risks in deciding where and how to monitor. In a number of our cases, we have seen how a monitor's presence can in itself have a direct impact.
Case Study: Ahmed Manseri
The treatment of Mr. Manseri's case differed significantly from the treatment of any other case heard that day.

TrialWatch monitor on the case of Ahmed Manseri
Reporting
We have issued numerous Fairness Reports, along with several preliminary reports (shorter reports that we issue more quickly after trial or even during the pendency of proceedings where there has been a completed violation). We have worked on these reports with experts such as former UN Special Rapporteur on Torture Juan Mendez, former member of the UN Human Rights Committee Martin Scheinin, and Baroness Helena Kennedy, Director of the International Bar Association Human Rights Institute.
We have also routinely spoken out about abuses when they occur. For instance, we urged the release of Omoyele Sowore, who was being detained in Nigeria despite a court order releasing him on bail. He was then set free pending trial. In numerous cases, our reports have been submitted by defense counsel to national courts of appeal. And we have used them to conduct advocacy before courts and human rights bodies internationally.
Our statements and reports have also been picked up by a wide range of local and international outlets. TrialWatch's reporting on the trial of 'Hotel Rwanda' figure Paul Rusesabagina, for example, led to CNN pressing the now ex-Rwandan Minister of Justice live on air to answer questions raised by our work. After his conviction, our assessment of the case was covered  by the New York Times, Washington Post, Financial Times, CNN, Al Jazeera, and Voice of America, among others.
Advocacy
We continue to expand our advocacy whenever and wherever we find that abuses have occurred. We fight for the freedom of those unjustly detained and leverage our trial monitoring findings to push for systemic change through legal or policy reforms.
Case Study: Hajar Raissouni
Through my experience, I think that TrialWatch is important because it documented all events and exposed human rights violations. and this is important for political detainees who are released from prison with nothing BUT their dignity.

Hajar Raissouni - Journalist in Morocco
Moroccan journalist Hajar Raissouni was charged with the 'crimes' of abortion and extra-marital sex. She was forced to undergo a non-consensual medical exam, denied access to a lawyer, and interrogated by officers who asked about her journalism rather than the alleged crimes. She was ultimately convicted on all charges and sentenced to one year in prison.
The TrialWatch Fairness Report, authored by a senior lawyer at the International Bar Association, gave the trial a grade of "D," noting that the judge "treated an unsigned statement presented by the prosecutor as a confession by Ms. Raissouni, despite the fact that she denied making it." TrialWatch monitoring in the case helped to put pressure on authorities, and she was later pardoned and freed.
Result: Pardoned
Read More About Our Press Freedom Work